Where are Metal Spikes Mainly Used?

Perimeter Walls;
Gates + Fences;
Building roofs;
Residential, Industrial, Commercial, Military, Security.
It is important to choose deterrent spikes according to local laws and specific uses.
How to Choose
We supply wall spikes of light type, maxi security type and middle security type.
Blunt tip spikes:
While sharp fence spikes such as barbed and razor wire are not typically allowed by homeowners associations and most municipal laws, blunt tip spike strips are specifically designed to comply with such rules.
Barb Nails:

Galvanzied barbed nail spikes are widely used in gardens, factories, airports, military defence and other wall protection.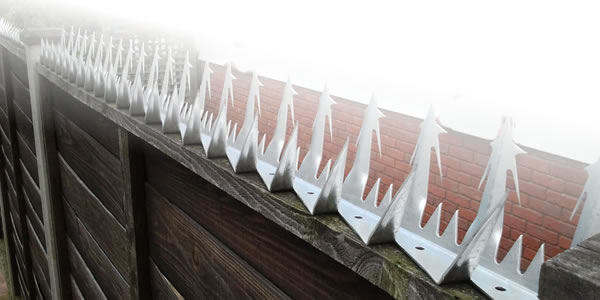 Metal Strips on PC Base:

Light type spikes for Bird / Pigeon Control, suitable for such sites including schools; clubs; residences and other places. Bird deterrents & repellent series products are used for pigeon control, crow control, seagull control, mice & rats control, squirrel control, cat control, ferrets control, mink control, feral dog control, raccoon control, fox control, hare control and pest animal control.
For harmless bird control, choose Plastic Spikes.
Anti Perching Pigeon Spike:
The dense pattern of protruding pins makes it impossible for pigeons to land, moving them elsewhere without hurting them.
The system is suitable for pigeons and gulls. Metal bird spike is available in either stainless steel or UV stabilized acrylonitrile polystyrene. The best solution for chasing away pigeons and birds of similar size. Stainless steel bird spikes never become rusty and keep its shape for many years.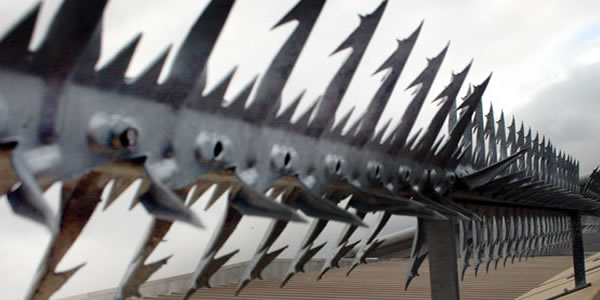 Anti Climbing Fencing Spikes: Fencing tops



Maintenance free metal fence spikes can be easily installed onto the top of most fences and walls made of brick, block, stone, iron, chain-link, welded mesh. The combination will create an effective anti-climbing obstacle barrier for trespassers and unwanted intruders. Heavy galvanized treatment or powder coating optional can be chosen according to specific uses.

Since Razor Spikes are potentially dangerous, they should be attached to walls and fences at a minimum height of 2m. The installed wall spikes must avoid any and all contact with pedestrian traffic and be installed in a highly visible manner in compliance with local laws and regulations and necessary warning signs.
Razor Spike for Perimeter Fence ( Chain Link Fence, Welded Mesh Fence, Palisade Fence and Fence Gates) and Wall

Aggressive security spike has three dimensional design that provides greater volume, superior strength and a superior physical and psychological barrier. Can be used for multi-use applications.
It is a continuous double row of razor sharp spikes. The outer spikes are barbed and the narrow inner spike has high penetrating power.
Concertina or Razor Wire is considered a great option where higher levels of security are required and stronger barriers are needed.  It is very easy to install and used in applications such as border barriers and the military.
Choose from Materials: Hot-dipped  galvanized  steel sheet, stainless steel AISI430  and AISI304.
Choose from Specifications: Barb thickness 0.8mm-1.0mm. Length of per piece 0.5m, 1m.


Security System for Concrete Walls, Precast Walls and Roofings
The system which can be rapidly installed to existing structures with ease.

Castle Wall Spikes
The wall spikes are easy to install and come in a variety of coatings or finishes. Mainly used for castles as well as other buildings.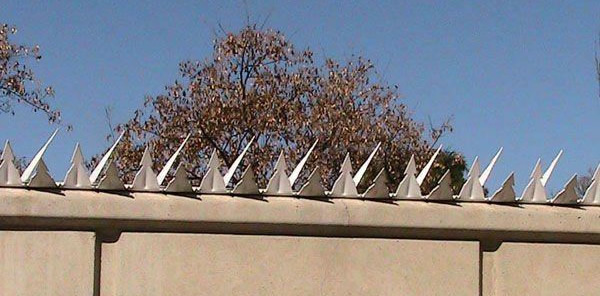 Choose Shark Tooth Spikes for window sills and brickwall security.
Wall spikes can also be used in the installation of domestic and commercial air conditioning systems. Spike strips installed on air conditioning can avoid bird set his nest on the air conditioning, which can affect the performance of air conditioning.