Razor Ribbons, Concertina Coils, Blade Razor Tapes
Razor wire is made by punching the metal sheets into the razor shape, then attach the razor sheet with a line of metal wire in sharp angle to form the blades. The blade razor wire coils are widely used in military field, prisons, detention houses, government buildings, residence fencing, villa wall, express way, railway and other security fencing facilities.

According to materials, we supply four types of razor barbed wires:
Hot dipped galv. razor wire;
Electro galvanized;
Stainless;
PVC coated.

According to forms of mounting, the razor wire barbed tapes can be divided into single coil, and crossed coils.
Single Coil Razor Wire is installed without clips, it runs in natural loops on walls or fencings. Razor wire ribbons are installed in any distance between loops, depending on the security desired, the most common being 18" or 450 mm. The razor strips can be packed in the roll form and unroll for installation along the top of sites or fencing for security and strengthening purposes.
Crossed Razor Wire Coils or Concertina Wires shall have each loop clipped. The adjacent loop 3- 5 -7 or 9 times equally spaced around the circumference to provide the concertina effect.

Steel Razor Wire Strips / Barbed Tapes, Hot Dip and Electro Galvanized
The galvanized razor wires are cut to certain height coils, used for wall and fencing tops for anti-intrusion application. Two types of galvanizing finishes available for steel razor wire: Electro ( cold ) galvanizing and Hot Dip (Thermal) Galvanizing.

Razor Wire Barbed Tapes can be classified into CBT and BTO according to blade shapes, with detail information listed below.

Finishes and Features
Thermal galvanizing can effectively increase the strength and corrosion resistance of the carbon steel wire materials. The processing of hot dipped zinc plating ensures a uniform zinc coating for the barbed tape and the strength of the coating.
Compared with stainless steel razor barbed tape, thermal ( hot dip) galvanized barbed tape has less cost. Compared with electro galvanized razor wire, hot dipped galvanized razor wire costs higher and lasts longer.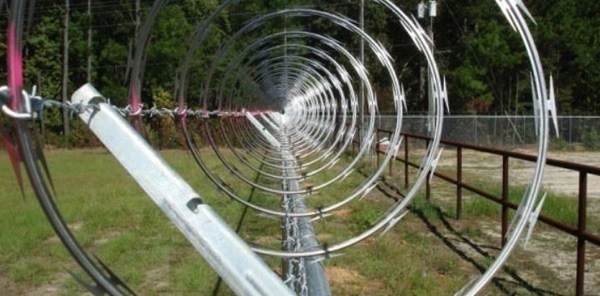 Crossed Concertina Concertina Wire, Blade Type CBT 60, Hot Dipped Galvanized Finish, for Mobile Barrier Uses


Raw Materials for Manufacturing
Galvanized razor strip thickness should lie between 0.5 - 0.55 mm. Using of a thin tape does not initially affected the efficiency of the razor wire, but in the long run will reduce the service life of the barricades several times.
The finished wire strips must be tight. The electro or hot dip galvanizing surface of the razor wire strip after compression should not be damaged during the process.

Structure and Design
Razor wire ribbon is usually manufactured in 3 coil diameters - 18" - 24" - 36" (450-600-750 MM). Clusters of 4 needle sharp barbs are located 4" (100 MM) on center around each coil loop. Each barb is 1.2 when measured from the center of the cluster. The wire coil is cold pressed high tensile galvanized or stainless steel core wire. Galvanized steel razor wire can be used in an open air temperature of -50 ~ 50 centigrade. The coils or tapes can function under the impact of rain, fog, snow, dust and strong wind loads. Razor wire has two-sided blades with symmetrical arrangement. The popular galvanized steel wire diameter is of 2.5 millimeters, reinforced to 5 mm in diameter. This design offer anti climbing protection to both sides of the fencing site. Also, it is very easy to assemble and install, allowing the repeated use of it.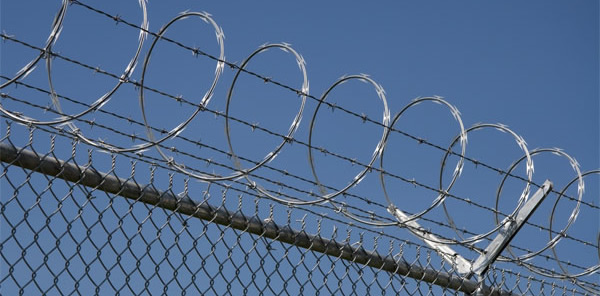 BTO 30 Blade Razor Wire Strips, Electro Galvanized Steel Finish, Installed along Chain LInk Fence Panels with Y Post Support Arms

Stainless Steel Razor Wire, Clipped Concertina Coils, High Security Fencing Grade
Razor wire made of stainless steel offers excellent corrosion resistance and can serve for a long period.

Material: SS Crossed Razor Wire is a kind of modern security barrier fabricated with razor-sharp stainless blade and high-tensile wire.

The clips are made of 0.065" X 0.0375 stainless steel capable of withstanding a minimum pull load of 200 LBS.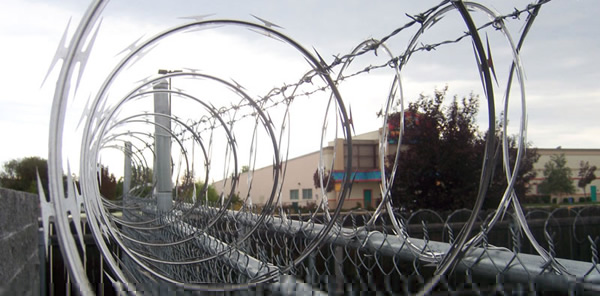 Stainless Steel Razor Wire Coils Crossed Concertina CBT-60, Sheet Thickness about 0.6mm: The construction is able to maintain its structure.
PVC Coated Steel Razor Wire

PVC coated razor concertina wire is a kind of anti-climbing barrier used together with PVC coated metal fence panels to achieved enhanced fencing effect. With beautiful colors, this type of razor wire is mainly used in fencing of perimeters, agriculture uses, villa wall and windows, expressways and national borders.
Features: Razor wire coils with PVC coating offer beautiful appearance, economic cost, good security effect and easy installation. Sharp blades coming in the form of concertina by buckles bring very good result of frightening and stopping to the aggressive perimeter intruders.
Types: Spiral, single coils and crossed concertina types.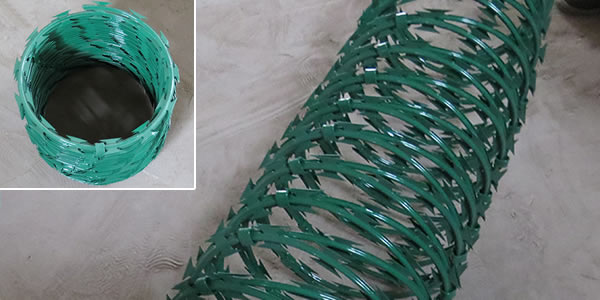 Razor Wire Specifications Applied to All Materials

Standard specification:
Razor thickness: 0.5mm-0.6mm.
Razor length: 12mm-21mm
Razor width: 13mm-21mm
Wire diameter: 2.5mm.
Outside diameter: 450mm-960mm
Barb spacing: 26mm-100mm
Number of loops: 31-104
Standard length per coil: 8m-16m.
Razor barbed types: Single coil, cross type (concertina razor barbed wire, flat razor barbed wire mesh).
Special specifications can be provided to meet the customer's requirements.
Blade Styles: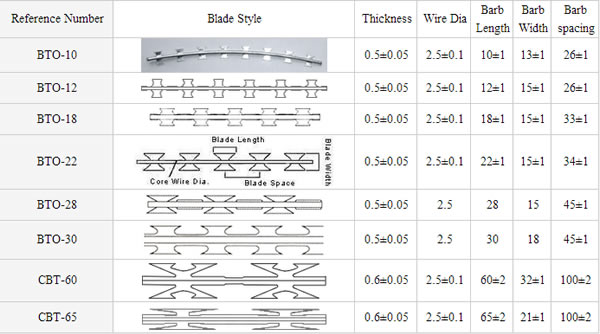 Loops and Coil Sizes
| | | | | |
| --- | --- | --- | --- | --- |
| Outside Diameter | No. of Loops | Standard Length per Coil | Type | Notes |
| 450mm | 33 | 7-8M | CBT-60.65 | Single coil |
| 500mm | 56 | 12-13M | CBT-60.65 | Single coil |
| 700mm | 56 | 13-14M | CBT-60.65 | Single coil |
| 960mm | 56 | 14-15M | CBT-60.65 | Single coil |
| 450mm | 56 | 8-9M (3 CLIPS) | BTO-10.12.18.22.28.30 | Cross type |
| 500mm | 56 | 9-10M (3 CLIPS) | BTO-10.12.18.22.28.30 | Cross type |
| 600mm | 56 | 10-11M (3 CLIPS) | BTO-10.12.18.22.28.30 | Cross type |
| 600mm | 56 | 8-10M (5 CLIPS) | BTO-10.12.18.22.28.30 | Cross type |
| 700mm | 56 | 10-12M (5 CLIPS) | BTO-10.12.18.22.28.30 | Cross type |
| 800mm | 56 | 11-13M (5 CLIPS) | BTO-10.12.18.22.28.30 | Cross type |
| 900mm | 56 | 12-14M (5 CLIPS) | BTO-10.12.18.22.28.30 | Cross type |
| 960mm | 56 | 13-15M (5 CLIPS) | BTO-10.12.18.22.28.30 | Cross type |
| 980mm | 56 | 14-16M (5 CLIPS) | BTO-10.12.18.22.28.30 | Cross type |