Stainless Steel Wall Spikes, Bird Spikes, Pigeon Spikes
Wall spikes designed for bird proofing, made of metal sheets either stainless steel or galvanized with angled wire points. Supplied in various length and heights. Bird spikes are most effective and humane bird control products for all bird species. The scare bird spikes are designed to protect all types of surfaces from pest birds and climbing animals.

Bird / Pigeon Spikes are suitable for such sites including schools; clubs; residences and other places. Bird deterrents & repellent series products are used for pigeon control, crow control, seagull control, mice & rats control, squirrel control, cat control, ferrets control, mink control, feral dog control, raccoon control, fox control, hare control and pest animal control.


Plastic Based Anti Perching Stainless Spikes
Materials: Stainless steel. The product base is made from high quality polycarbonate. No loss of mechanical strength at a temperature of 130 degrees centigrade. The protruding spikes are manufactured from 304 grade stainless steel and have a tensile strength of 1600N/mm. The length of each spike is 110mm and has a diameter of approximately 1.3mm. It is easy installed along the walls and roofing, to deter pigeons and seagulls from landing and roosting.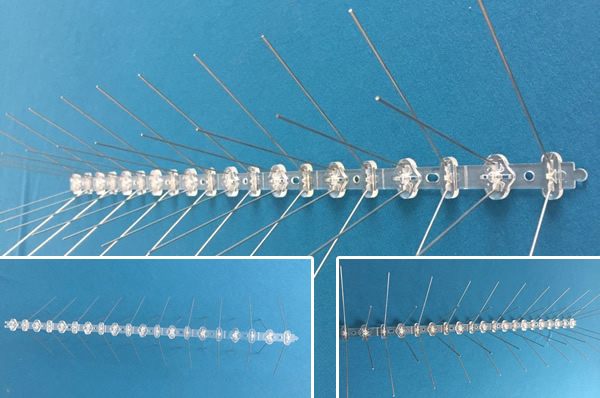 Deterrents with SS 304 pin point along pc base, 320 x 50 x110mm, Covering 170mm, with 40 spikes.
Specifications
Material: AISI 201,304, 316
Super Tough PC Polycarbonate Base Stainless Steel Bird Spike
50CM base length with many kind spikes shapes.
PC base
20-60PCS spikes per base
Protection area: Line -8 inch
Rows: 1- 5 rows.
The spike strip consists of a spring tensioned uv coated stainless steel wire installed at different heights.
Popular Sizes
Stainless Steel 304 Bird Spike
| | | | | | | | | | | |
| --- | --- | --- | --- | --- | --- | --- | --- | --- | --- | --- |
| Base material | Spike material | Length | Base width | Spike height | Cover range | Spike number  | QTY/CTN | Carton Size | N.W | G.W |
| Plastic | Stainless Steel  | 320mm | 50mm | 110mm | 170mm | 40 | 30 PCS | 58*34*26cm | 3.6kgs | 4.8kgs |

Also: 30 spikes on 51cm length and 4cm width base(polycarbonate material, heat-resistant & anti-corrosion and achromophilous), protected area: 18cm, spikes thickness: Ø1.3mm;
Number of spikes on 30.5cm base: 30, spike length: 12cm, material spikes: 304 stainless steel, plugged, base length: 30.5cm, base width: 4cm, material base: polycarbonate, bulk packing
Features
Easy to install
High effective
Keeps nuisance birds away
Stops birds landing on buildings and fences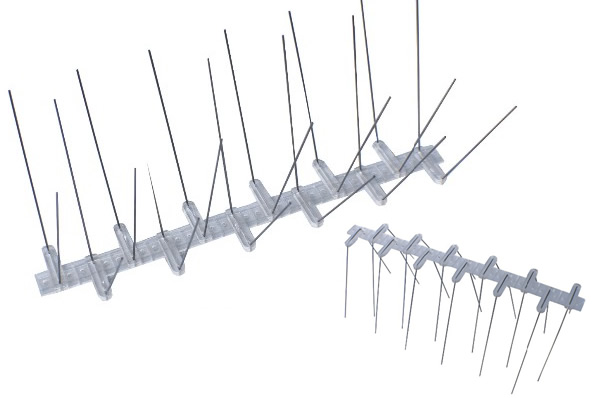 Anit climbing stainless steel barrier spike in 100 x305 mm length, with different rows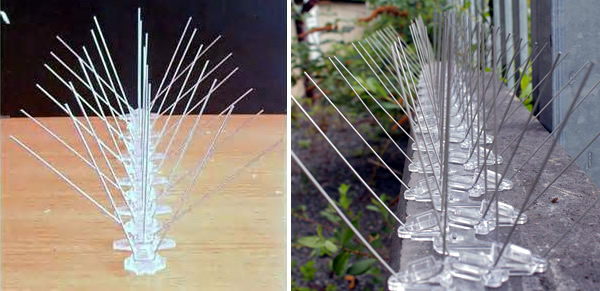 galvanized steel strip with pvc base, Anti Perching Pigeon/ seagull Spike System
The angled wires increase the effectiveness of the system and eliminate the need for multiple rows on wide ledges. The dense pattern of protruding pins makes it impossible for pigeons to land, moving them elsewhere without hurting them. Available in either anti rusting stainless steel or UV stabilized acrylonitrile polystyrene. The best solution for chasing away pigeons and birds of similar size.