High Security Anti Climb Razor Spikes for Perimeter Fence, Wall and Pipes
Razor spike is a blade type metal security razor strips designed for fitting onto narrow surfaces such as fencing rails or building walls. The blade spike will strengthen or upgrade the security rating mounted on existing walls, roofs, top of wire mesh fences.


Anti Climb Razor Spikes Fence Tops
The razor barbed spikes have three dimensional designs offering superior excellent physical and psychological fencing and safety systems. The anti climbing razors are heavily ribbed for added strength, hot dip galvanized against corrosion, easy to install and require no maintenance. The products can form great security systems with gates and fences. Used in residential, commercial, industrial, military and high security projects.

Material:
Hot-dipped galvanized steel sheet;
PVC Coated galvanised;
Stainless steel AISI430 and AISI304.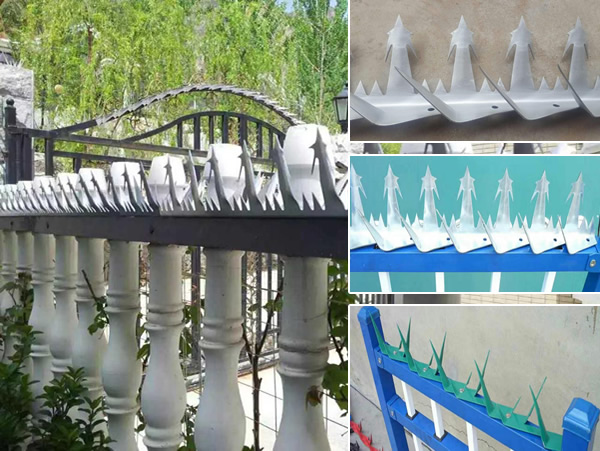 Galvanized Razor Fencing Spikes, hot dip galvanized finish, in 1.45m length, installed along top rails of metal fence panels.

The lengths come in 1.45 metre & 1.8 metre and can be cut to perimeter length.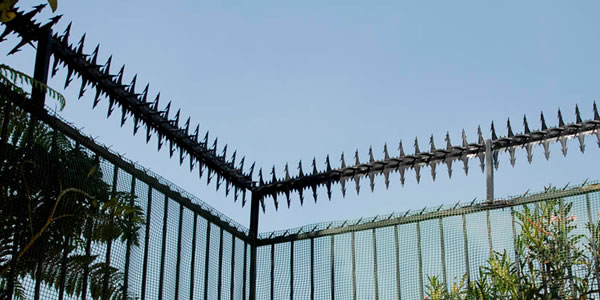 6cm High Blade Razor Spike installed along welded mesh fence, supported with steel tubes.


Features:
Low cost, high protective ability;
Virtually impossible to climb over;
Heavily ribbed for strength;
Galvanized against corrosion;
Powder coating optional;
Easy to Install;
Maintenance free;
Suitable for various fence panels.

Razor Fencing Spikes Specifications:
| | |
| --- | --- |
| Plate Thickness | 0.8 - 2 mm Toughened Steel |
| Coating Options | Hot Dipped Galvanised. Powder Coating optional extra |
| Razor / Barb Length | 64mm to 100 mm |
| Standard Length Of Spike Rail | 1.45 m / 1.8 m. Or, 0.5m, 1m, 1.5m, 2.0m, 2.5m |
| Spikes per Meter | 20 |
| Packing | 10 Units Inside one Cardboard Box |
U Razor Channels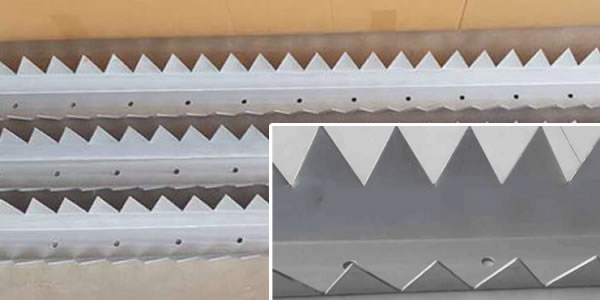 Hot dip galvanized U type spikes
Length: 1.5m
Plate thickness: 2.0mm
Bottom width: 50mm
Spike spacing: 90mm
Unit weight: 3.0kg
Spike height: front: 50mm; rear: 80mm
PVC coating available in various colors.

Anti Theft Razor Spikes for Pipes / Poles in Residential Buildings
Two types: flat and curved round.
The anti climbing barbed spikes are arranged around the outer pipes / poles / cables, or on wall railings, windows, against burglary and theft.

Where Security Spikes Are Used
Affix to the top rail and post of various fence panels: welded mesh, steel palisade, chain link and various mesh fences to prevent climbing and bird perching;
Gates + Fences;
Precast walling;
Upgrade electric fences by fitting SS Blade under the fence;
Residential walls, windows and water pipes.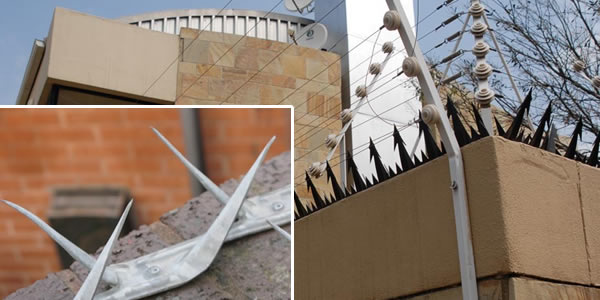 1.45 m length security spike rails / strips fixed on metal tube railings.