Galvanised Iron Barbed Wire Fencing Tapes
We offer five types of barbed wires according to materials:
Electro galvanized;
Hot-dip zinc-plating;
PVC coated galv.;
PE coated galv.;
Stainless steel.
Besides traditional barbed wires, we also supply razor type barbed wire, which offers sharper blade and better security for protecting.
Barbed Wire Tape is used individually or together with different fences.
Galvanized Iron Barbed Tape


Materials: Q195 and Q235
Surface treatment: HDG (hot dip galvanized), EG (electro galvanized) and PVC coated
Tensile of Strength: Soft: 380-550N/mm2 ; high tensile strength:800-1200N/mm2
Style: Galvanized Barbed Wire in IOWA type, with 2 strands, 4 points. Barbs' distance 3-6 inches ( Tolerance +- 1/2" ).
Application: Fencing for industry, agriculture, animal husbandry, dwelling house, plantation or farms.
Packing: in coils.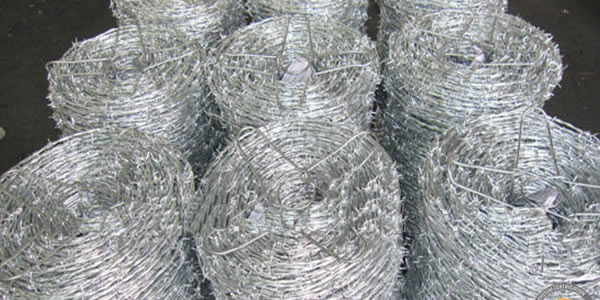 IOWA Type barbed wire 14x14 wire gauge, wound into coils for easy transport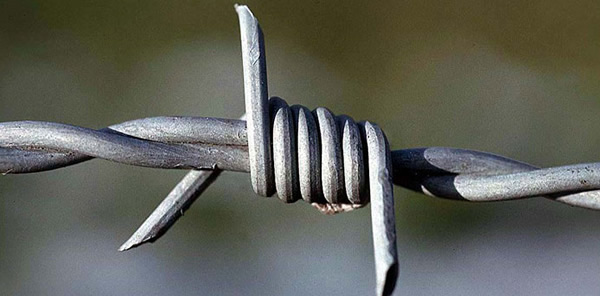 Double TwistED Barb Wire, electro galv.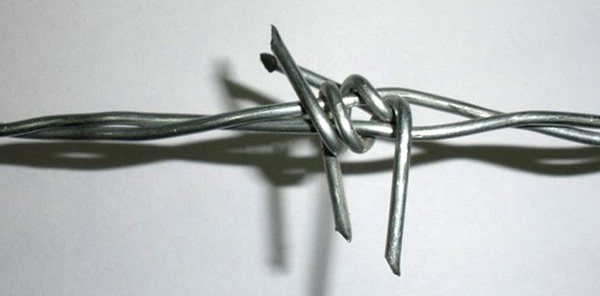 Reverse Twisted Barbed Wire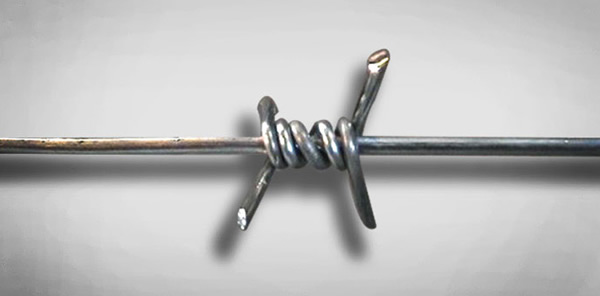 Straight Twisted Barbed Wire, Hot dip galvanized
PVC Coated Barbed Iron Wire
Core wire can be galvanized iron wire or black annealed iron wire.
A variety of colors like green, blue, yellow, orange, gray, is available with PVC Coating.
Tensile strength is 30-45 kgs./sq.mm.
Packing: In coil of 25 kilos or 50 kilos net, lined with P.V.C strips, then wrapped with P.V.C or hessian cloth.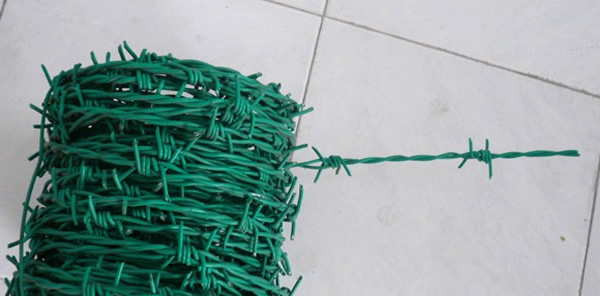 ANTI CLIMBING PVC Coated Barbed Wire in 16 x 14 gauge, double twisted, packed in 25kg coil

Specifications
Single Wire Barbed Wire
Wire BWG
Barbed Distance
18*18
5-15cm
20*20
22*20
22*22
25*22
26*22
27*22
28*22
30*22
Double Twist Barbed Wire

Wire BWG
Long m/kg
Barbed Distance 3"
4"
5"
6"
12*12
6.0617
6.759
7.27
7.6376
12*14
7.3335
7.9051
8.3015
8.5741
12-1/2*12-1/2
6.9223
7.719
8.3022
8.7221
12-1/2*14
8.1096
8.814
9.2242
9.562
13*13
7.9808
8.899
9.5721
10.553
13*14
8.8448
9.6899
10.2923
10.7146
13-1/2*14
9.6079
10.6134
11.4705
11.8553
14*14
10.4569
11.659
12.5432
13.1752
14-1/2*14-1/2
11.9875
13.3671
14.3781
15.1034
15*15
13.8927
15.4942
16.6666
17.507
15-1/2*15-1/2
15.3491
17.1144
18.406
19.3386
PVC Barbed Wire

Wire Diameter
Outside Wire Diameter
Distance Barbed
Long Of Barbed
1.0-3.5mm
1.4-4.0mm
7.5-15cm
1.5-3cm
BWG 11-20
BWG8-17
SWG 11-20
SWG8-17
PVC Thickness 0.4-0.6mm


Packing Details:

Barbed Wire (Wire Gauge)

Packing 10kgs / Coil

1*20'FCL Quantity

16GA*16GA

160M/coil

15TONS

16GA*14GA

125M/coil

16TONS

14GA*14GA

100M/coil

17TONS

14GA*12GA

80M/coil

18TONS

12GA*12GA

65M/coil

19TONS

15kgs/coil

Barbed Wire (Wire Gauge)

Packing 10kgs/coil

1*20'FCL Quantity

16GA*16GA

240M/coil

15TONS

16GA*14GA

180M/coil

16TONS

14GA*14GA

150M/coil

17TONS

14GA*12GA

120M/coil

18TONS

12GA*12GA

100M/coil

19TONS

25kgs/coil

Barbed Wire (Wire Gauge)

Packing 10kgs/coil

1*20'FCL Quantity

16GA*16GA

400M/coil

16TONS

16GA*14GA

300M/coil

17TONS

14GA*14GA

250M/coil

18TONS

14GA*12GA

200M/coil

19TONS

12GA*12GA

160M/coil

20TONS