Block Wall Topping Spike Strips, Galvanized Finish: Light Pin Point Spike and Heavy Razor Spike
Wall spike system is a very cost effective topping usually made of heavy galvanized steel. Galvanized wall spikes are ideal for protecting Low Roofs, Walls, Fence Toppings, Schools, Medical Centers and Public Buildings. The wall spikes enable bird-proofing for castles in addition to security fencing functions.

Light Type PC Based Galvanized Wall Spikes / Bird Control Deterrents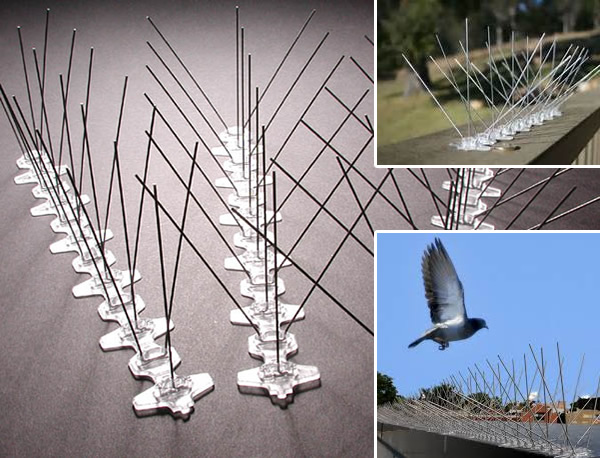 PC BASED PIN Point spikes effectively KEEP birds from perching and nesting on building roofs.
Common Specification:
Hot-dipped galvanized and electro galvanized, or PVC coated.
Spike thickness: 0.8mm-3mm
Length per piece: 50cm, 64cm, 100cm, etc.

Advantage of Using Wall / Bird Spikes:
Virtually impossible to climb over;
Economic cost;
Galvanized against corrosion;
Powder coating optional;
Easy to Install;
Maintenance free.

Light type wall spikes for perimeter walls and building roofs


Heavy Security Type Anti Climb Razor Wall Spikes, For Castle Wall and All Types of Perimeters

Hot Dipped Galvanised Steel Spike Strips are neat, easy to install, cost effective and maintenance free. Ideal intrusion deterrent products for castle walls and residential perimeter fencing. Available in various tooth, barb length and base sizes.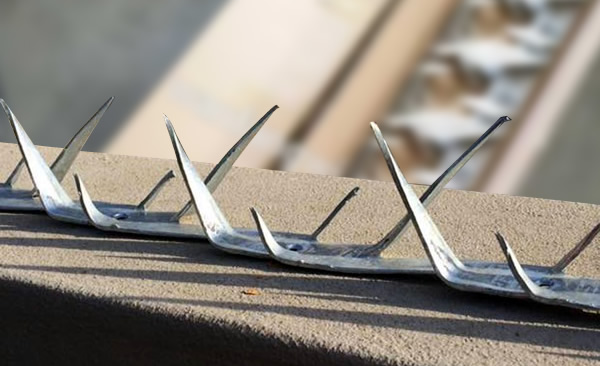 80mm high steel plate Punched anti climb spikes with Razor Point, suitable for castles roofing protection.
Common Specifications
Medium Security Type: The Spike comes in lengths of 1.0 and 4', 35-45mm wide at the base. The spikes stand 80mm high. Made from 1.5-2mm thick hot-dipped galvanised steel.

Heavy Type: Materials: hot dipped galvanized, stainless steel, PVC coated plates.
Plate thickness: 0.8mm - 2.0mm
Barb length: 64mm and 100mm
wall spike strips length 500mm - 2000mm
Metal anti climb spikes new specifications:
Base length - 1.2 – 2 meter,
Spike height - 110-140 mm.,
Base width - 50-65 mm.,
Spikes pitch - 70-90 mm.,
Galvanized and Powder coated.
Features:
Varies sizes to choose
Easy to install
Follows Wall Contours

Warning: Wall spikes are potentially dangerous and should be attached to walls and fences at a minimum height of 2m. The installed spikes must avoid any and all contact with pedestrian traffic and be installed in a highly visible manner in compliance with local laws and regulations and necessary warning signs fitted.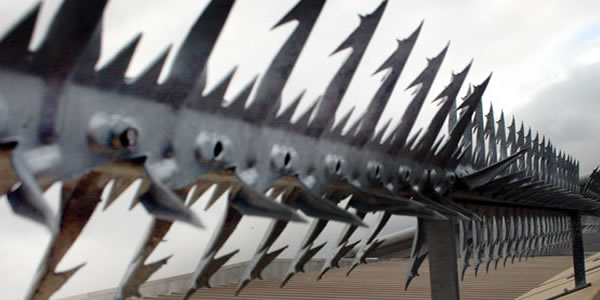 heavy galvanised Barbed Razor spikes for residential area against intruders, Seagulls, Pigeons and birds